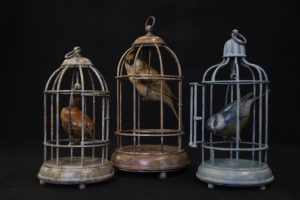 I am really excited to show you my new Series of Sculptures featuring Birds in Cages, something I have been working on during Lockdown.
The cages are all constructed by hand so that the bird swings on its perch, they can be displayed with the door open or closed and either hanging or free standing.
I'm sure they will represent many things to many people but I think we can all relate to the sense of confinement  we have endured during 2020.
The first three Releases are very limited so don't hesitate to get in touch with us directly or with your usual gallery if you are interested.
We have a good collection of work here in the studio that was due to be included in several Exhibitions over the coming months. If you are looking for a special gift this Christmas then please get in touch for details of what is available.